---
Non ti va di leggere? Prova ad ascoltare l'articolo in modalitá audio 🎧
Puoi leggerlo con calma, sul tuo dispositivo, in PDF.
---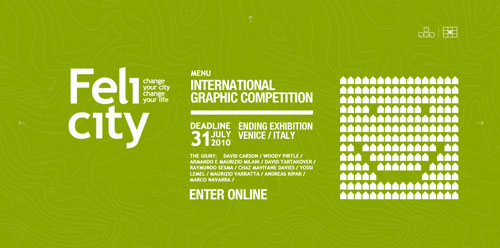 Deadline: 31. 07. 2010
International graphic design contest "Felicity.
Change your city, change your life" The aim of the project is to encourage reflections about the life in a community, an occasion for graphic designers and architects from all over the world to express, demonstrate and imagine possible solutions for a city, capable to improve the life of its inhabitants.The graphic works (poster 70 x 100 and 100 x 70) will be selected by a jury of experts and will be exhibited in October in Venice together with Expo Shanghai 2010 and The Biennial of Architecture.
Felicity Project è una occasione per grafici di tutto il mondo per esprimere, manifestare e immaginare soluzioni per una città capace di accogliere e migliorare la vita dei suoi abitanti. Il concorso invita ad interpretare attraverso il mezzo grafico il concetto di città a misura d'uomo. Le opere saranno selezionate da una giuria internazionale e verranno esposte alla Expo Shanghai 2010 e alla Biennale d'Architettura di Venezia nell'Ottobre 2010. L'ultimo giorno disponibile per iscriversi è il 31 luglio.